Bareis + Nicolaus ist ein multimedial arbeitendes Designstudio für visuelle Kommunikation in Stuttgart und Hamburg. Gegründet wurde das Studio von Dipl. Des. Felix Bareis & Dipl. Des. Christian Nicolaus. Als Absolventen der Staatlichen Akademie der Bildenden Künste Stuttgart realisieren wir bereits seit 2011 grafische und experimentelle Projekte zusammen.
Seit 2018 arbeiten wir zusammen mit unseren Kund*innen an unterschiedlichsten Designprojekten in den Bereichen Kunst, Kultur und Wirtschaft. Gemeinsam entwickeln wir eine klare, moderne visuelle Sprache mit dem Fokus auf Materialität und Typografie.
Unser Designprozess zeichnet sich durch eine starke strategisch-konzeptionelle Basis und einer engen Zusammenarbeit mit unserem (+) Netzwerk von Kreativschaffenden und qualifizierten Produktionspartnern aus.
Bareis + Nicolaus is a multimedia design studio for visual communication based in Stuttgart and Hamburg – founded by Dipl. Des. Felix Bareis & Dipl. Des. Christian Nicolaus. As graduates of the State Academy of Fine Arts and Design in Stuttgart, we have been working together on graphic and experimental projects since 2011.
Since 2018 we have been working with our customers on various design projects in the fields of art, culture and economy. Together we develop a clear, modern visual language with a focus on materiality and typography.
Our design process is characterized by a strong strategic-conceptual basis and a close cooperation with our (+) network of creative professionals and qualified production partners.
About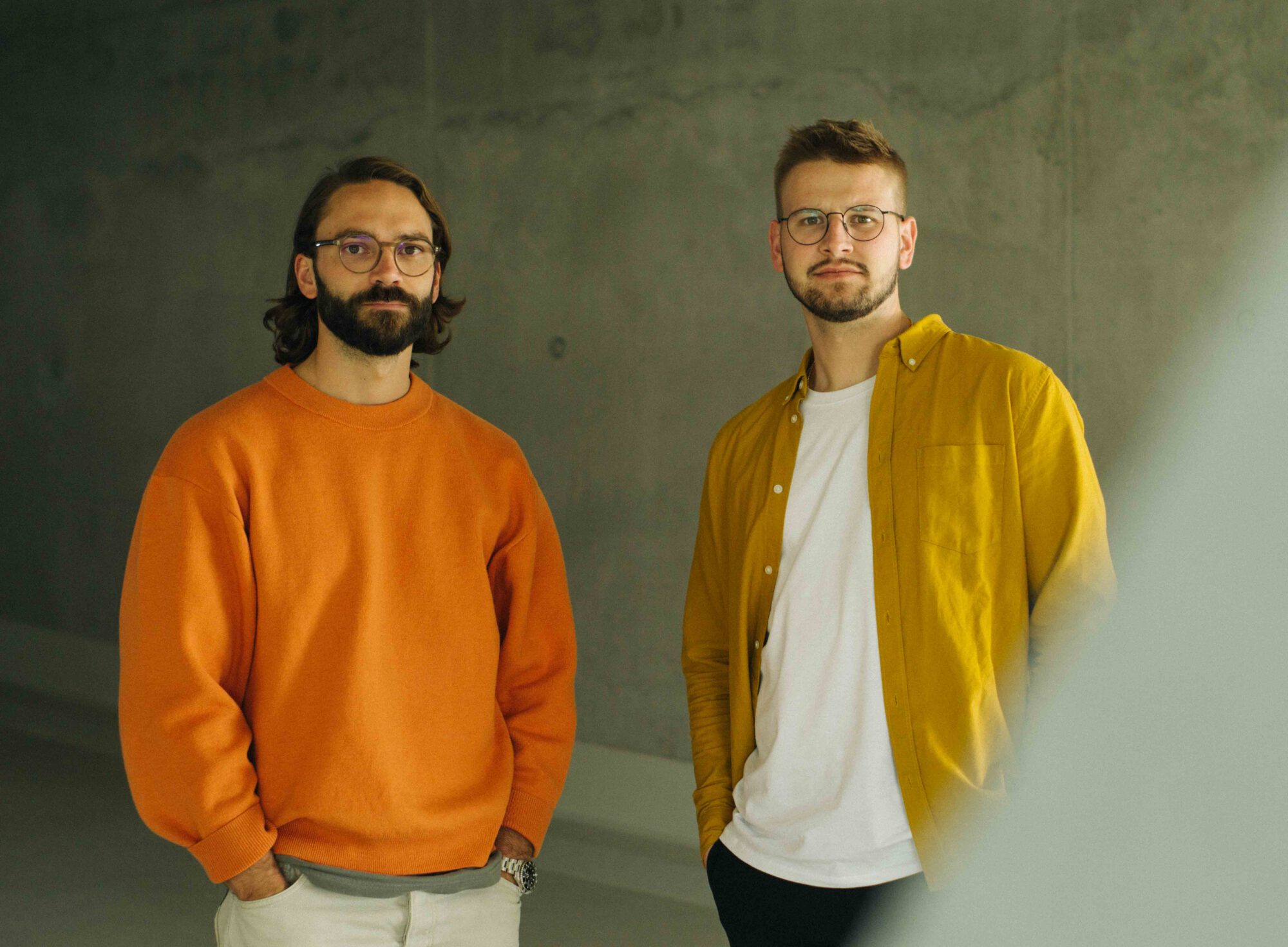 Creative Services
Art Direction
Wir planen und entwickeln strategische Kommunikationskonzepte und moderne grafische Lösungsansätze für verschiedene Bereiche der visuellen Kommunikation. Diese reichen von einfachen Printmedien wie Plakaten, über Illustration, bis hin zu komplexen Ausstellungskonzepten. Zielgerichtet, mit unterschiedlichsten Medien und in enger Zusammenarbeit mit unseren Kund*innen.
We plan and develop strategic communication concepts and modern graphic solutions for various fields of visual communication. From simple print media such as posters, through illustration, to complex exhibition concepts. With a wide range of media and in close cooperation with our customers.
Print & Editorial
Wir planen, konzipieren und gestalten alle Arten von Druckerzeugnissen: Bücher, Magazine, Kataloge oder Geschäftsberichte. Der Fokus auf außergewöhnlichen Druckerzeugnissen und ganz besonderen Veredelungstechniken wird von einem Netzwerk an qualifizierten Partner*innen unterstützt.
We plan, organize and design all kind of printed matter: books, magazines, catalogs or annual reports. The focus on unique printed matter and special finishing techniques is supported by a network of qualified partners.
Identity & Corporate Design
Wir legen großen Wert auf eine intensive Recherche als Grundlage für unsere Design-Konzepte. So entstehen, mit einem individuellen, auf den Kund*in zugeschnittenen Konzept, unverwechselbare Erscheinungsbilder und Produktidentitäten für kulturelle Institutionen, Unternehmen und Veranstaltungen.
We attach great importance to intensive research as the basis for our design concepts. This creates, with an individual, customer-specific concept, distinctive appearances and product identities for cultural institutions, companies and events.
Exhibition & Space
Wir arbeiten und gestalten im dreidimensionalen Raum: von der Konzeption und Ausarbeitung für Ausstellungen bis hin zur Umsetzung von Installationen und Wegleitsystemen bieten wir ein breitgefächertes grafisches Spektrum.
We work and design in three-dimensional space: from a basic concept and composition for different exhibitions to the implementation of installations and guidance systems, we offer a wide range of graphics.
Animation & Digital
Wir entwerfen Webseiten und digitale Erscheinungsbilder. Ob Bewegtbild oder Animation – je nach Anforderung arbeiten wir mit spezialisierten Partner*innen zusammen, die sich um die fachgerechte Programmierung kümmern.
We design websites and digital appearances. Whether moving images or animation – depending on the requirements, we work with specialized partners who take care of a professional implementation.
+ Network
Selected Clients
ABK Stuttgart / Block Opera / Bund Deutscher Architekten / Deloitte / Dockville Festival Hamburg / Dolde Mayen & Partner / Geiselmann + Hauff Architekten / Gustaaf / Haus der Heimat des Landes Baden-Württemberg /  Hermann Schmidt Verlag / Kulturregion Stuttgart / Leuco Ledermann GmbH & Co. KG / Lichtgestalten / Majestic Casual / MHDK Stuttgart / MTV Music Television / Musik der Jahrhunderte / Native Instruments / Permanent Vacation Records / Radio Weltspiele Hannover / Reeperbahn Festival GmbH / Ritter Sport / Ruck Architekten / Schawa Tv GmbH / Slam City Jams / Solid Wood Record / Sony Music Entertainment / Stadt Stuttgart / Stadtpalais Stuttgart / Tanzszene Baden-Württemberg / Telefunkenpark Heilbronn / Theaterhaus Stuttgart / Theater Rampe / Unearthed Sounds Ltd / Universal Music / Weingut Dobler / Weißenhofinstitut Stuttgart
Features
Selected Awards & Exhibitions
Antwerp Poster Festival / Bau, Barcelona / Demo Festival / Ecuador Poster Bienal / ENBW – Visual power, Stuttgart / Ficciones Typografika, United States / Forward Festival / Graphic design Festival Scotland / International ITFS, Stuttgart / Joseph Binder Award / Lahti Poster Triennial / Reeperbahn Festival / Secret 7″, London / The Lighthouse, Glasgow / Type Directors Club, Tokyo / Typomania int. Typographic Festival, Moscow / Weltformat int. Posterfestival, Lucerne / 48h Neukölln, Berlin / 100 Beste Plakate D/A/CH
Publications
Design made in Germany / ENBW  Visual power (ISBN 978-3-934510-57-9) / Ficciones Typografika 1642 / On the Road to Variable »The Flexible Future of Typography« (ISBN: 9789887850175) / Graphic Design festival Scotland / Kiblind Magazin / Lovers Magazine / PAGE Magazin / PLOT Magazin / RSVP " Sandu Publications (ISBN: 9781584235910) / Slanted #36 / Spiegel / TDC Tokyo / »There is glory in prevention«, Patrick Junker / Typoversity 2 (ISBN 978-3-939028-35-2) / Rools & Tools / Universitas Magazin / 100for 10 / 1000 for 100 / Zeitgeist Magazin, Mainz